Summary
Current Position: US Representative for NC 3rd District since 2020
Affiliation: Republican
Gregory Francis Murphy (born March 5, 1963) is an American urologist and politician representing North Carolina's 3rd Congressional District in the U.S. House of Representatives since 2019. He served as a representative in the North Carolina General Assembly from 2015 to 2019.
Source: Wikipedia
About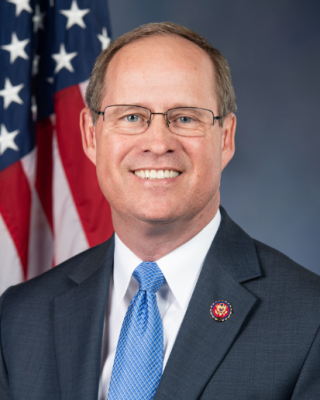 Source: Government page
Dr. Gregory Murphy, originally from Raleigh, graduated magna cum laude from Davidson College in 1985. He then attended UNC School of Medicine graduating with Honors and a member of AOA. After doing his residency in Urology and Renal Transplantation at the University of Kentucky in Lexington, he and his wife settled in Greenville, NC to begin his practice. He and his wife, Wendy, have three children all are either working or in graduate school. He was formerly President of Eastern Urological Associates in Greenville and Affiliate Professor and Chief of the Division of Urology at the ECU School of Medicine. He recently served as Davidson College's Alumni President and was on its Board of Trustees. Outside of work he has traveled extensively for the last 35 years to Third World Countries including India, several parts of Africa, Nicaragua and Haiti  as a Medical Missionary.
Dr. Murphy's professional career has been primarily one of clinical practice and administrative leadership positions. His surgical practice site is Vidant Medical Center, a 1,000 bed level 1 Trauma Center, which serves 29 eastern NC counties. He served for three years as Chief of Staff of the Medical Center. He previously served on the Board of the NC Urological Association, on the Board of Directors of the South Eastern Section of the American Urological Association and on the Executive Board of the Judicial and Ethics Committee for the American Urological Association as well as on the By-Laws Committee. He is a member in good standing of the North Carolina Institute of Medicine.
As a newcomer to politics Dr. Murphy served in the North Carolina House of Representatives from 2015 to 2019. During his second term in the General Assembly, he served as Senior Chair of Health Policy and Chair of Health and Human Services Appropriations. While he was successful in getting a variety of legislation passed, he was the Primary Sponsor of both the STOP Act and the HOPE Act, North Carolina's two main legislative actions to combat the Opioid Crisis. He led efforts to combat waste, fraud and abuse in the state's Medicaid system which saved the state hundreds of millions of dollars during his tenure.
Dr. Murphy, along with 25 other candidates, ran in a Special Election in 2019 to replace Congressman Walter B Jones, Jr, who passed away after serving the citizens of the NC District 3 for more than  22 years. Running against 16 other Republicans, he came in first in the Primary but had to compete in a runoff two  months later. He won the run off by more than 20 points and then won the General Election two months later with 61 percent of the vote. As a freshman in the US Congress, he serves on the Science and Technology Committee as well as the Education and Labor Committee.
Experience
Work Experience
Education
Personal
Birth Year: 1963
Place of Birth: Raleigh, NC
Gender: Male
Race(s): Caucasian
Spouse: Wendy Murphy
Contact
Email:
Offices
Washington, D.C. Office
2333 Rayburn House Office Building
Washington, DC 20515
Phone: (202) 225-3415
Edenton Office
101 W. King St.
Edenton, NC 27932
Phone: (252) 368-8866
Greenville Office
1105 Corporate Dr., Suite C
Greenville, NC 27858
Phone: (252) 931-1003
Jacksonville Office
234 Northwest Corridor Blvd.
Jacksonville, NC 28540
Phone: (910) 937-6929
Web
Government Page, Campaign Site, Twitter, YouTube, Facebook, Wikipedia
Twitter
Politics
Recent Elections
2019 General Election for District 3
| | | |
| --- | --- | --- |
| Gregory Murphy (R) | 70,407 | 61.7% |
| Allen Thomas (D) | 42,738 | 37.5% |
| Greg Holt () | 507 | 0.4% |
| Tim Harris (L) | 394 | 0.3% |
| TOTAL | 114,046 | |
Source: Ballotpedia
Finances
MURPHY, GREGORY FRANCIS (GREG) has run in 4 races for public office, winning 3 of them. The candidate has raised a total of $1,752,610.
Source: Follow the Money
Committees
Committees
Education & Labor Committee
Science, Space, & Technology Committee
Subcommittees
Higher Education and Workforce Investment Subcommittee
Workforce Protections Subcommittee
Environment Subcommittee
Voting Record
See: Vote Smart
New Legislation
Source: Congress.gov
Issues
Source: Government page
Limited Government 
The Constitution begins with the words We the People, a strong message sent by the Founding Fathers that our government exists only because the people authorize it to exist. The Constitution is not a document that lays out what the government can do. In fact it is just the opposite, it lays out all the things the federal government cannot do. The 10th Amendment goes so far as to reassure us that all the powers not specifically given to the federal government resting the hands of the people and the states. I believe in a traditional interpretation of the Constitution and I will go to Washington with the goal of decreasing the size and scope of the federal government and to move as much power away from Washington and back to North Carolina and its people.
 Spending & Debt 
Our national debt recently passed $22 trillion and despite this staggering number, our government continues to borrow over 40% of every dollar it spends. I support a Balance Budget Amendment and will always look for and support spending cuts, with an eye toward clearing defining wants from needs. We must curtail this out of control spending that is mortgaging our children's futures.
Support President Trump 
President Trump is one of the few Presidents in recent memory who is attempting to do exactly what he said he was going to do on the campaign trail.  If Senate Republicans had supported him, Obamacare would have been repealed.  I will support the Trump agenda because it is the people's agenda, especially Eastern North Carolina that voted so overwhelming in his favor.
Supporting Our Military 
Promises made should be promises kept. That standard goes for our active duty military who stand in harms way to protect our freedoms, as well as our veterans who have honorably served our nation. Our area contributes as much as any in the nation to our armed forces and we must make sure our services, for both active duty, veterans and their families are second to none.
National Defense 
The United States is the world's great superpower and maintaining a strong national defense is a Constitutional mandate that must be upheld. We must follow the council of our military leaders and make sure they have the tools they need to protect our freedoms around the world.
2nd Amendment 
The Founding Father's did not randomly select the order of the Amendments and the fact that the right to bear arms is so near the top is telling. Reactionary responses to crimes involving guns overlooks the basic facts that more restrictive gun laws will have little effect on crime because by nature, criminals do not follow the law. Combine these freedom supporting principles with personal protection rights and our sporting heritage and I see no reason to place further burdens on law abiding citizens to purchase and own firearms.
Immigration 
Legal and orderly immigration has been an important part of the fabric of our Nation. Allowing individuals to cross our borders illegally endangers our national security, weakens our economy and is an affront to the millions who have played by the rules and entered our nation through the proper legal channels. We must enforce the laws already in place, oppose amnesty for those who broke those laws and provide funding to secure our borders as a matter of both national security and of principle.
Healthcare
As a physician, I have firsthand knowledge of the healthcare crisis in our nation and the role the federal government played in getting us there. Obamacare was one of the worst pieces of legislation ever passed and we must do everything possible to dismantle any remnants of that failed policy. I support healthcare reforms that put the decision making process of doctor choice and treatment options in the hands of the citizens and will look for new and innovative ways to implement such changes.
Protecting the Innocent Unborn 
I am solidly pro-life and will do all within my power to protect the innocent unborn. As a Christian, I also will work to show compassion for those having to make this decision and provide as many alternatives as possible, including reducing barriers to adoption.