Summary
Current Position: US Representative for NC 6th District since 2021
Affiliation: Democrat
Former Position(s): US Senator
Featured Quote: 
Today is my 100th day as your Congresswoman! Here in #NC06 my team and I have been hard at work for you. If you need assistance with a federal agency, please call my office at (336) 333-5005. For more updates, sign up for my newsletter at http://manning.house.gov.
Featured Video: 
Kathy Manning talks COVID-19, record vote count after win in 6th Congressional District race
News
Washington, D.C. – Today, Congresswoman Kathy Manning (NC-06) joined her colleagues to pass the National Defense Authorization Act for Fiscal Year 2022 (NDAA) with bipartisan support. This legislation makes key investments to improve the lives of servicemembers and military families, while also strengthening our national security.
Rep. Manning wrote five amendments to the bill, including one requiring the military to consider the benefits of using electric vehicles for students at military installations.
"The passage of this year's defense funding bill is an important step to ensuring the security of our nation by supporting our servicemembers in uniform," said Rep. Manning. "I am proud to have all five of my amendments included in this legislation. These amendments will accelerate our shift towards clean energy usage in the military, express our collective concern for the safety of Afghan women and girls, and provide critical support for the evacuations of Americans and Afghan partners from Afghanistan."
Twitter
About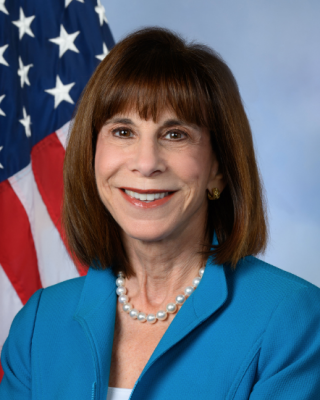 Source: Government page
Kathy Manning represents North Carolina's Sixth Congressional District which includes all of Guilford County and parts of Forsyth County — an area known as the Triad. Kathy graduated from Harvard University and the University of Michigan Law School before moving to Greensboro, NC in 1987, where she and her husband raised their three children. After serving as a partner at a major law firm for 15 years, she left to start her own immigration law firm.
Before her election to Congress, Kathy worked to expand access to early childhood education, college scholarships, workforce development, and assistance to those in need through nonprofit organizations including the United Way, the Community Foundation of Greater Greensboro, the National Conference for Community and Justice, and the University of North Carolina at Greensboro. She has also worked tirelessly on major projects to revitalize downtown Greensboro and spur economic development. Kathy was the first woman to chair the Board of the Jewish Federations of North America, one of the largest charitable, faith-based organizations in the world, which provides assistance to communities in need around the world.
In Congress, Kathy is a proud member of the Education and Labor and Foreign Affairs Committees. In North Carolina, Kathy is a strong advocate for affordable health care and prescription drug prices, a quality education for every student, economic opportunity and equal justice for all.
Voting Record
Caucuses 
Congresswoman Manning is pleased to serve as the Freshman Representative to Leadership for the New Democrat Coalition.
New Democrat Coalition
Bipartisan Historically Black Colleges and Universities Caucus
Labor Caucus
Democratic Women's Working Group
Black Maternal Health Caucus
Women's Caucus
Pro-Choice Caucus
Equality Caucus
Offices
415 Cannon House Office Building
Washington, DC  20515
Contact
Email:
Web
Government Page, Campaign Site, Twitter, Facebook, LinkedIn, Wikipedia
Politics
Source: none
Campaign Finance
Open Secrets – We Follow the Money
Voting Record
VoteSmart – Key Votes & Ratings
Search
Wikipedia Entry
Kathy Ellen Manning (born December 3, 1956) is an American lawyer and politician from North Carolina. She is the U.S. representative from North Carolina's 6th congressional district. The district is in the heart of the Piedmont Triad and includes Greensboro and most of Winston-Salem. She was the nominee for North Carolina's 13th congressional district in the 2018 election, and ran for and won the neighboring 6th in the 2020 election after court-ordered redistricting.
Early life and education
Manning was born to a Jewish family in Detroit, Michigan, on December 3, 1956.[1][2] Her father worked for the Ford Motor Company for 40 years, and her mother was a public school teacher. Manning attended Harvard University, where she sang a cappella with the Radcliffe Pitches.[3][4] She also attended the University of Michigan Law School, earning a Juris Doctor.[5]
Early career
After graduating from college, Manning moved to Greensboro, her husband's hometown, in 1987. She was the first woman to serve as board chair of the Jewish Federations of North America,[6] from 2009 to 2012.[7] She also was the founding board chair of Prizmah: Center for Jewish Day Schools in New York.[8]
U.S. House of Representatives
Elections
2018
In 2018, Manning ran against Republican incumbent Ted Budd for the United States House of Representatives in North Carolina's 13th congressional district.[9] At the time, the district stretched from southwestern Greensboro to the northern exurbs of Charlotte. On paper, the district tilted Republican; Donald Trump had carried the district two years earlier with 53% of the vote. She lost to Budd, 51%–45%.
2020
After a court-ordered redistricting in 2019, Manning's home in Greensboro was drawn into the neighboring 6th District, represented by three-term Republican Mark Walker. The new 6th included all of Guilford County and swept west to grab the more Democratic areas of neighboring Forsyth County, including almost all of Winston-Salem.[10] The old 6th included eastern Greensboro, as well as much of the eastern Triad and some outer suburbs of the Triangle.
On December 2, 2019, hours before the new map was issued, Manning announced she would run in the 6th.[11] The new district was significantly more compact and Democratic than its predecessor. Had it existed in 2016, Hillary Clinton would have won it with over 59% of the vote[12]–a near-mirror image of Trump's 56% in the old 6th.[13] On paper, the new 6th was one of the most Democratic white-majority districts in the South.
With most observers believing the 6th was a likely Democratic pickup,[14] Walker announced he would not run for a fourth term.[15]
Manning won the Democratic primary, and in the general election, she defeated Republican nominee Lee Haywood with 62% of the vote. Upon her swearing-in on January 3, 2021,[16] she became the first Democrat to represent this district since 1985, and the first white Democrat to represent a Triad-based district since Steve Neal left office in 1995.
Manning has championed healthcare issues throughout her time in office, in part because she faced barriers with insurance coverage after her daughter was diagnosed with a chronic illness.[17]
Tenure
Committee assignments
Caucus memberships
Bipartisan Historically Black Colleges and Universities Caucus
Labor Caucus
Democratic Women's Working Group
Black Maternal Health Caucus
Women's Caucus
Pro-Choice Caucus
Equality Caucus[18]
Personal life
Manning and her husband, Randall Kaplan, have three children.[21]
Electoral history
North Carolina's 13th congressional district, 2018 Democratic primary results[22]

Party
Candidate
Votes
%
Democratic
Kathy Manning
19,554
70.1
Democratic
Adam Coker
8,324
29.9
Total votes
27,878
100.0
See also
References
External links
Issues
Source: Government page
Committees
Legislation
Learn more about legislation sponsored and co-sponsored by Representative Manning.
Issues