Summary
Current Position: US Representative for NC District 1 since 2004
Affiliation: Democrat
George Kenneth Butterfield Jr. (born April 27, 1947) is an American lawyer and politician serving as the U.S. Representative for North Carolina's 1st congressional district since 2004. A member of the Democratic Party, he was first elected in a special election after the resignation of Frank Ballance.
His district is in the state's northeastern corner, stretching from Durham to Elizabeth City; it includes all or parts of 24 counties. A longtime advocate of civil rights, Butterfield was appointed an Associate Justice of the North Carolina Supreme Court by Governor Mike Easley in 2001, retaining the position until 2003. He is a member of the Congressional Black Caucus and served as its chair from 2015 to 2017.
Source: Wikipedia
About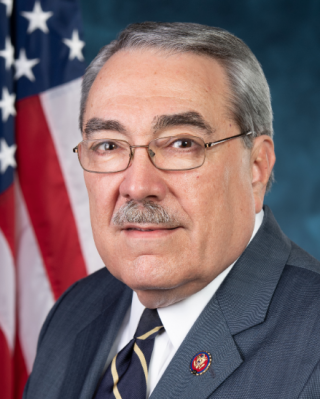 Source: Government page
Congressman G. K. Butterfield is a life-long resident of eastern North Carolina. Raised in Wilson, Congressman Butterfield spent his formative years attending Charles H. Darden High School and worked tirelessly in the Civil Rights Movement as a young adult. His parents were Dr. & Mrs. G. K. Butterfield, Sr. His father practiced dentistry for 50 years and served as one of North Carolina's first black elected officials since Reconstruction. His mother was a classroom teacher for 48 years.
Congressman Butterfield graduated from college and law school at North Carolina Central University in Durham, North Carolina. After earning his law degree, Congressman Butterfield founded a law practice in Wilson and served the community in that capacity for 13 years. He is best known for his successful litigation of voting rights cases that resulted in the election of African-American elected officials throughout eastern North Carolina.
In 1988, Congressman Butterfield was elected as Resident Superior Court judge. In this role, he presided over civil and criminal court in 46 counties of North Carolina. For two years, he served on the North Carolina Supreme Court by appointment of the governor. Butterfield retired from the judiciary after 15 years of service and successfully ran for Congress. He was elected to serve the First District of North Carolina in the U.S. House of Representatives in a special election on July 20, 2004, where he continues to serve today.
In Congress, Butterfield is a champion of affordable health care, education, investments in rural communities, veterans, renewable energies, and federal programs that support low-income and middle-class Americans.
Butterfield serves in the Democratic leadership as Chief Deputy Whip and is a past Chair of the Congressional Black Caucus (114th Congress). He sits on the influential Committee on Energy & Commerce where he serves as the Vice Chair of the Subcommittee on Health. In addition, he serves as a member of the Subcommittees of Communications and Technology and Energy. In the 116th Congress, Congressman Butterfield also sits on the Committee on House Administration where serves as a member of the Subcommittee on Elections.
Congressman Butterfield is a life-long member of Jackson Chapel First Missionary Baptist Church. He is a veteran of the U.S. Army and a proud father and grandfather.
Experience
Work Experience
Attorney
North Carolina Resident Superior Court Judge
1988 to 2001
Justice of the North Carolina Supreme Court
2001 to 2002
North Carolina Special Superior Court Judge
2002 to 2004
Education
Personal
Birth Year: 1947
Place of Birth: Wilson, NC
Gender: Male
Religion: Christian: Baptist
Children: Valeisha & Lenai
Offices
Washington D.C. Office
2080 Rayburn House Office Building Washington, DC 20515
Phone: (202) 225-3101
Durham Office
2741 Campus Walk Avenue Bldg. 400, Ste. 300
Durham, NC 27705
Phone: (919) 908-0164
Fax: (919) 908-0169
Wilson Office
216 NE Nash Street, Suite B
Wilson, NC 27893
Phone: (252) 237-9816
Fax: (252) 291-0356
Web
Government Page, Campaign Site, Facebook, Twitter, Wikipedia
Politics
Recent Elections
2018 US Senator for District 1
| | | |
| --- | --- | --- |
| G.K. Butterfield (D) | 190,457 | 69.8% |
| Roger Allison (R) | 82,218 | 30.2% |
| TOTAL | 272,675 | |
Source: Ballotpedia
Finances
BUTTERFIELD JR, GEORGE KENNETH (GK) has run in 6 races for public office, winning 5 of them. The candidate has raised a total of $4,378,652.
Source: Follow the Money
Committees
Committees
Committee on Energy and Commerce Members
Committee on House Administration Members
Joint Committee on the Library Members
Subcommittees
House Subcommittee on Communications & Technology
House Subcommittee on Health
House Subcommittee on Energy
Voting Record
See: Vote Smart
New Legislation
Source: Congress.gov
Issues
Grow Our Economy & Create Jobs
Overview
Congressman Butterfield is committed to the policies that will help grow our economy and produce job opportunites for the people of the First District and across the state. The strength and ingenuity of the First District can power North Carolina into a new era of prosperity.
'Make it in America'
Congressman Butterfield is dedicated to helping the American workforce by encouraging businesses to manufacture products within the nation and promoting the export of American goods. With this increase in manufacturing, Americans deserve a thorughtful energy plan that will not only supply its energy demands, but also create green jobs. Creating relationships between local and global businesses will produce opportunities for market expansion, innovation, and job creation.
Build a 21st Century Infrastructure
Congressman Butterfield hopes to maintain and improve all modes of transportation from high and rail, to airports and sea ports. A connected North Carolina provides job opportunities, moving commerce, and a stronger connection with the global economy.
Invest in Rural Communities
As a senior member of the Subcommittee on Communications and Technology for the House Energy and Commerce Committee, Congressman Butterfield's goal is to connect the rural communities of the First Distrcit to the global exchange of technology. Providing agricultural producers with access to world markets, employment opportunities, federal assistance, and new methods of production are critical if rural communities are to thrive.
Expand Opportunity
Overview
Congressman Butterfield believes that hard work and responsibility should be rewarded. The people of the First District deserve equal and fair access to the tools and opportunities that allow them to compete in the global workforce, earn decent wages, and have a fair shot at obtaining the American dream.
Improve Education and Give Children a Head Start
As the son of a school teacher, Congressman Butterfield knows that education is the best investment we can make in our nation's future.  Early childhood programs such as Head Start and quality primary education will give children the solid foundation to compete in the global workforce, earn fair wages and lead our nation forward.
Train North Carolinians for Jobs of the Future
Congressman Butterfield believes bold action is needed to bridge the gap between those looking for jobs and employers looking for skilled workers. Strengthening our competitiveness begins with providing North Carolinians with tools to succeed through expanding access to high quality education and innovative training programs. Doing so will grow the pool of highly skilled workers that companies are looking for to grow their businesses.
Promote Women's Economic Agenda
Congressman Butterfield is committed to breaking down the barriers to equal pay and employment for women. True opportunity requires that all people, regardless of their gender, have equal access to the rights, benefits, and opportunities defined by our Constitution. Congressman Butterfield supported President Obama in passing the Lilly Ledbetter Fair Pay Act in 2009, which provides a remedy for women and men who have been victims of pay discrimination.
End Poverty & Hunger
Overview
Congressman Butterfield understands that a weakened U.S. economy depresses incomes, strains households, and eliminates entire job markets, making it harder for families to stay healthy and provide for their loved ones. He will continue to protect and improve crucial safety net programs that help families get back on their feet after unexpected challenges.
Make Sure No Child Goes Hungry
As Co-chair of the Out of Poverty Caucus and member of the Democratic Whip's Task Force on Poverty, Income Inequality, and Opportunity, Congressman Butterfield will continue to protect and strengthen crucial safety net programs like the Supplemental Nutrition Assistance Program (SNAP), Temporary Assistance for Needy Families (TANF), Unemployment Insurance (UI) programs, and the Special Supplemental Nutrition Program for Women, Infants, and Children (WIC), which help families get back on their feet after unexpected challenges. These critical programs are absolutely essential to keep children and families from going hungry while helping get people back to work.
Provide Access to Affordable, Quality Healthcare
As an influential leader on the House Energy and Commerce Subcommittee on Health, Congressman Butterfield is committed to ensuring that Americans have access to health care. He played a supportive role in the development of the Affordable Care Act (ACA) that has given millions of uninsured and underinsured Americans access to affordable healthcare.
Increase Affordable Housing Options
Congressman Butterfield believes that homeownership is a key part of achieving the American Dream.  Homeownership constitutes the bulk of wealth for the majority of American households and represents a stepping stone into the middle class.
Protect Voting Rights
Overview
As former civil rights attorney and advocate of voting rights, Congressman Butterfield believes the right to vote embodies the spirit of American democracy. He works tirelessly to eliminate barriers that prevent North Carolinians from exercising their right to vote in free and fair elections.
Fight for Voting Rights Nationwide
Congressman Butterfield is dedicated to protect the right to vote for all Americans. On June 25, 2013, the Supreme Court struck down Section 4 (b) of the Voting Rights Act of 1965 (VRA).  The historic VRA prohibits racial discrimination in elections.  Section 4 of the VRA is the formula that designates certain areas of the country that must have proposed changes to their voting laws cleared by the federal government or in federal court before implementing those changes.  Without an enforceable Section 4, the VRA has been exploited by extreme and conservative state legislatures in an effort to suppress minority voters.  Congressman Butterfield will not let this setback to the VRA hinder America's progress for equality and representative democracy.
Fight for Voting Rights in NC
Congressman Butterfield is fighting to stop the aggressive efforts to disenfranchise voters in North Carolina. The right to vote for all eligible adults embodies the spirit of American democracy and should be protected.
Support Our Military & Veterans
Overview
As a veteran of the U.S. Army, Congressman Butterfield believes we need to do more for our veterans and servicemembers. One of the most important aspects of his job in Congress is to proudly represent and support servicemembers and their families of the First District, which is home to Seymour Johnson Air Force Base in Goldsboro.
Provide Education to Our Veterans
A long-time advocate of our men and women in uniform, Congressman Butterfield believes that educational benefits are important steps towards honoring those who serve and helping them prepare for civilian life. He is working to resolve an inequity in existing law that allots fewer education funds to veterans who attend public institutions of higher learning.
Improve Veterans Healthcare
Congressman Butterfield demands that the U.S. Department of Veterans Affairs quickly make meaningful reforms to remedy the problems within the VA healthcare system so our veterans can start receiving the high quality care they deserve. As a country, we must support those who protect our freedom and provide them with quality healthcare.
Honor Merchant Mariners
Congressman Butterfield is committed to honoring the brave men and women who served our country in the Merchant Marines during World War II and have gone unrecognized for their service.  Through no fault of their own, these selfless individuals have been unable to prove their service in the Merchant Marines because the documents needed to prove service either did not survive over time or never existed at all.  Congressman Butterfield believes now is the time to stand-up for these great Americans and give them the recognition they rightly deserve.