Summary
Current Position: US Representative for NC 4th District since 1997
Affiliation: Democrat
Former Position(s): US Senator
Other Positions:  
Chair, Subcommittees Transportation, and Housing and Urban Development, and Related Agencies
Featured Quote: 
#ICYMI: I hosted a roundtable on the importance of child care w/ 4th district leaders. The #AmericanFamiliesPlan tackles generational inequities by investing in high-quality child care, helping youth thrive & their families participate in the labor force.
Featured Video: 
The Congressional Experience: An Institution Transformed | Conversation with Congressman David Price
News
WASHINGTON, DC (September 10, 2021) – Today, Congressman David Price (NC-04), released a statement supporting President Biden's newly announced Path Out of the Pandemic plan:
"Last night, President Biden announced additional specific steps in our fight to end the COVID-19 pandemic. I support his call for bold action to stop the spread, increase vaccinations, and keep our communities safe and healthy."
Twitter
About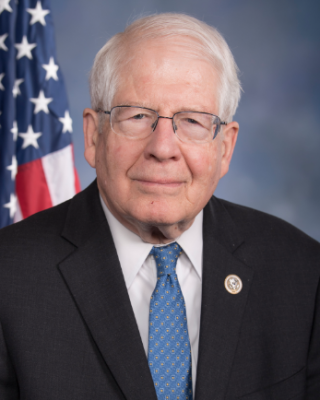 Source: Government page
From Educator to Congressman
David Price represents North Carolina's Fourth District a rapidly growing, research-and-education-focused district that includes all of Orange County, the majority of Wake County, and the southern part of Durham County. He received his undergraduate degree at UNC-Chapel Hill and went on to Yale University to earn a Bachelor of Divinity as well as a Ph.D. in Political Science.  Before he began serving in Congress in 1987, David was a professor of political science and public policy at Duke University.  He is the author of four books on Congress and the American political system.
David is North Carolina's only member of the House Appropriations Committee and serves as the Chairman of the Transportation, Housing and Urban Development Appropriations Subcommittee.  He also serves on the Subcommittee on Homeland Security and the Subcommittee on State, Foreign Operations, and Related Programs. He also serves on the House Budget Committee. He is a recognized leader on foreign policy, serving as Chairman of the House Democracy Partnership and an outspoken advocate for Middle East peace.  In North Carolina, David's constituents know him as a strong supporter of education, accessible health care, affordable housing, clean air and water, scientific research, and improved transportation alternatives.
Personal Background
Born in 1940, David grew up in the small town of Erwin in eastern Tennessee, where his father was a high school principal and his mother was an English teacher.  David studied at Mars Hill College and then at the University of North Carolina at Chapel Hill as a Morehead Scholar.  He earned his B.A. in 1961 and continued his education at Yale University, where he received a Bachelor of Divinity degree (1964) and a Ph.D. in Political Science (1969).
David and his wife Lisa were married in 1968 and settled in Chapel Hill in 1972.  After being a stay-at-home mother for many years, Lisa worked for Chapel Hill Mayor Ken Broun and then went on to help to found North Carolinians Against Gun Violence.  She was its Executive Director until retiring in 2007.  The Prices have two children and two grandchildren: Karen, a documentary filmmaker based in Los Angeles, and Michael, a professor of evolutionary psychology at Brunel University in London.  David and Lisa are proud grandparents of Charles Albert Price (born in 2006) and Margaret Elizabeth Price (born in 2009).
David is a member of Binkley Memorial Baptist Church in Chapel Hill, where he has taught Sunday School and chaired the official board.
Recognized Leadership
In addition to his leadership on the Appropriations Committee and the House Democracy Partnership, David serves as a Vice Chair on the House Democracy Reform Task Force, a Vice Chair of the House Gun Violence Prevention Task Force, and a co-chair of the Democratic Policy Group.  Price also co-chairs the Democratic Caucus Faith Working Group, the National Service Caucus, the Congressional Vision Caucus, the Congressional Humanities Caucus, and the Moldova Caucus.
Price has received numerous awards and honors for his work as a legislator.  He has been named a Lifetime Champion by the North Carolina Justice Center, a Champion of Science by the Science Coalition, a Distinguished Community Health Champion by the National Association of Community Health Centers, and a Legislator of the Year by the Sierra Club of North Carolina, the North Carolina Low-Income Housing Coalition, the National Multiple Sclerosis Society, and other organizations.  He is a recipient of the Hubert H. Humphrey Award from the American Political Science Association, the Edward M. Kennedy National Service Lifetime Achievement Award from the Friends of National Service, the Commodore Ellsworth P. Bertholf Award from the United States Coast Guard, the Good Government Award from Common Cause of North Carolina, and the Equality Award from the Human Rights Campaign, among others.
Voting Record
Caucuses 
Congressional Humanities Caucus (Co-Chair)
House Democracy Partnership
United States Congressional International Conservation Caucus
National Service Caucus (Co-Chair)
Congressional Arts Caucus
Veterinary Medicine Caucus
House Baltic Caucus
Afterschool Caucuses
Congressional NextGen 9-1-1 Caucus
America's Language Caucus
Experience
Work Experience
Faculty
Yale University
1967 to 1973
Professor
Duke University

973-1986, 1995-1996

Staff director of the commission on presidential nomination for the Democratic National Committee
1981 to 1982
Chair
North Carolina Democratic Party
1983 to 1984
Education
Personal
Birth Year: 1940
Place of Birth: Erwin, TN
Gender: Male
Race(s): Caucasian
Religion: Christian: Baptist
Spouse: Lisa Price
Children: Michael Price, Karen Price
Contact
Email:
Offices
Washington D.C. Office
2108 Rayburn Building
Washington, DC 20515
Phone: 202.225.1784
Fax: 202.225.2014
Chapel Hill-Durham Office
1777 Fordham Blvd
Suite 204
Chapel Hill, NC 27514
Phone: 919.967.7924
Fax: 919.967.8324
Raleigh Office
436 N. Harrington St
Suite 100
Raleigh, NC 27603
Phone: 919.859.5999
Fax: 919.859.5998
Web
Government Page, Twitter, YouTube, Facebook, Wikipedia
Politics
Source: none
Campaign Finance
Open Secrets – We Follow the Money
Voting Record
VoteSmart – Key Votes & Ratings
Search
Wikipedia Entry
David Eugene Price (born August 17, 1940) is an American politician serving as the U.S. representative for North Carolina's 4th congressional district since 1997, previously holding the position from 1987 to 1995. A member of the Democratic Party, he represents a district covering much of the heart of the Triangle, including all of Orange County and parts of Wake and Durham counties. It includes most of Raleigh, parts of Durham, and all of Cary and Chapel Hill. Price is the dean of North Carolina's delegation to the House of Representatives.[1] He has announced that he will retire from Congress in 2022.[2][3]
Early life and education
Born in Erwin, Tennessee, Price attended Mars Hill College when it was a junior college.[4] He later transferred to the University of North Carolina at Chapel Hill after winning a Morehead Scholarship and became a member of the Dialectic and Philanthropic Societies.[5] He earned his degree in 1961.[4] Originally intent on becoming an engineer,[4] Price continued his education at Yale University, where he received a theology degree (1964) and a Ph.D. in political science (1969).[6]
Career
Price served as an aide to Alaska Senator Bob Bartlett from 1963 to 1967 and then entered academia, working as a political science and public policy professor at Duke University from 1973 until his first campaign for Congress in 1986.[6] He also served as a Duke professor during 1995 and 1996, when he was not in Congress.[6]
Price worked for the North Carolina Democratic Party from 1979 to 1984.[6] He has written a political science textbook, The Congressional Experience, from the perspective of a candidate for office and then a member of Congress. Price also served as executive director and then state chair of the North Carolina Democratic Party before his election to Congress.[4]
U.S. House of Representatives
Elections
1986–1992
Price first entered Congress in 1987 after defeating one-term Representative Bill Cobey, 56% to 44%.[6][7] He was reelected in 1988 and 1990 with 58% of the vote.[8][9] In 1992, he was reelected with 65%.[10]
1994
In 1994, Price lost to the Republican nominee, former Raleigh police chief Fred Heineman, by a margin of less than 1%[11] during the Republican Revolution, in part due to lower-than-expected turnout in the Democratic stronghold of Orange County (home to Chapel Hill), but despite the fact that heavily Republican Randolph County had been eliminated from the fourth district during redistricting.[4]
1996
In 1996, Price defeated Heineman in a rematch, 54% to 44%.[12] He was helped in part by voters who were not happy with the lack of progress made by the freshman class on the goals of the Contract with America.[13]
1998–2006
The district reverted to form, and Price was reelected by wide margins in 1998 (57%), 2000 (62%), 2002 (61%), 2004 (64%), and 2006 (65%).[14]
2008–2020
Price's opponent in the 2008 election was Republican B.J. Lawson. Lawson was called the most formidable opposition Price had faced since he lost to Heineman in 1994.[15] For example, he ran television ads, which Price's opponents hadn't done in at least a decade.[16] Despite Lawson's increased efforts and expenditures, Price defeated him, 63% to 37%.[17]
Price launched his 2010 reelection campaign on September 8 of that year. Price defeated Lawson in a rematch, 56% to 44%.[18]
In 2012, Price defeated the Republican nominee, businessman Tim D'Annunzio. In 2014, he defeated Republican Paul Wright, a trial lawyer, former District Court and Superior Court judge and 2012 candidate for governor of North Carolina. In 2016, Price defeated Republican nominee Sue Googe. In 2018, he defeated Republican nominee Steve Von Loor and Libertarian nominee Barbara Howe. The 4th district was reconfigured as a result of court-mandated redistricting in 2019. The new district shed much of its Raleigh sections in exchange for all of Durham County and several other more rural counties. In 2020, Price defeated Republican nominee Robert Thomas with more than 67% of the vote.[19]
Tenure
Price was an early opponent of the Iraq War of 2003[20] and sponsored a bill to bring the conduct of private military companies working in Iraq under legal jurisdiction of the United States.[21] He has also introduced legislation to prohibit contractors from performing interrogations of prisoners in the custody of intelligence agencies.[22]
As chairman of the 2008 House subcommittee responsible for determining the budget for the Department of Homeland Security, Price sought to focus immigration enforcement efforts on criminal convicts.[23][24]
Price authored a provision of the Taxpayer Relief Act of 1997 that made the interest on student loans tax-deductible,[25] and legislation creating the Advanced Technological Education program at the National Science Foundation, which provides grants for high-tech education in community colleges and was enacted in 1993.[26] He voted for the Emergency Economic Stabilization Act of 2008,[27] reasoning that "the harmful effects of the credit crisis on all North Carolinians were too great for the federal government to sit on the sidelines."[28] and for "[defending] critical emergency management and homeland security priorities" received an award from the association of state emergency managers.[29] In December 2009, he voted for the Wall Street Reform and Consumer Protection Act, which enacted more stringent regulations on the financial industry to protect consumers and taxpayers from another financial crisis.[30]
Price is the author of legislation to reform the public financing system for presidential campaigns.[31]
Price has opposed concentration of media ownership. He worked on legislative initiatives to roll back the FCC's 2003 rules[32] and co-sponsored an unsuccessful bill to overturn another 2008 FCC approval of media consolidation.[33] Price voted for the 2006 "Markey amendment" to establish network neutrality in the Communication Act of 1934.[34]
In 2013, Price voted against the amendment to the Patriot Act that would have eliminated Section 215 and curtailed the National Security Agency's controversial data collection program.[35]
On October 18, 2021, Price announced that he would not seek reelection.[2]
Committee assignments
Caucus memberships
Price also chairs the House Democracy Assistance Commission.[43]
Personal life
Price married his wife, Lisa Kanwit, in 1968. They were longtime Democratic Party activists together,[4] and have two children: Karen, a filmmaker; and Michael, a professor of Evolutionary Psychology at Brunel University in London.[6] They have three grandchildren.[6] Price resides in Chapel Hill[4] and is a member of the Binkley Memorial Baptist Church.
Price received the 2011 John Tyler Caldwell Award for the Humanities from the North Carolina Humanities Council.[44]
Electoral history
References
External links
Recent Elections
2020 Democratic Primary for 4th District
| | | |
| --- | --- | --- |
| David Price (D) | 151,938 | 86.7% |
| Daniel Ulysses Lockwood (D) | 23,209 | 13.3% |
| TOTAL | 175,147 | |
Finances
PRICE, DAVID E has run in 6 races for public office, winning 6 of them. The candidate has raised a total of $5,175,645.
Source: Follow the Money
Committees
Committees
House Committee on Appropriations
House Committee on the Budget
Subcommittees
Transportation, and Housing and Urban Development, and Related Agencies
Chair
Homeland Security, State, Foreign Operations, and Related Programs
Voting Record
See: Vote Smart
New Legislation
Source: Congress.gov
Issues
Committees
Committee on Appropriations
Subcommittee on Homeland Security
Subcommittee on the Legislative Branch
Subcommittee on Transportation, Housing and Urban Development, and Related Agencies (Chair)
Legislation
Issues
Appropriations & Budget
As a senior member of the House Appropriations Committee and member of the House Budget Committee, I have fought consistently for robust investments in education, innovation, infrastructure, and the other things that make our nation strong, while also working to promote fairness and fiscal responsibility in the federal budget process.
In the current Congress, I serve as the Chairman of the Transportation, Housing and Urban Development, which oversees federal transportation and housing funding. I also serve on the Homeland Security Appropriations Subcommittee and the State and Foreign Operations Subcommittee.
My role as the only Appropriations Committee member from North Carolina has also allowed me to ensure that our state gets its fair share of federal resources by fighting for programs and projects on which it depends, including scientific and biomedical research. I have also secured funding for a wide range of local projects that directly benefit the Fourth District.
As your representative, I will continue to fight for a federal budget that protects critical domestic investments while also charting a responsible path back to fiscal balance. I hope you will keep in touch with me as Congress debates these important issues.
Campaign Reform
I believe we are at a tipping point in the short history of campaign finance reform: We can either stand by the common-sense reforms enacted after the Watergate scandal, or we can cede control of political campaigns entirely to the wealthy and monied interests.  The responsible choice is clear.
I have been at the forefront of Democratic efforts to protect our electoral process and have authored legislation, the Empowering Citizens Act, which would modernize and refine the presidential campaign financing system, create a new small donor matching system for congressional campaigns, and establish clear rules on coordination between candidates and "Super PACs."  These commonsense, concrete steps would diminish the influence of high-dollar special interests in our elections and encourage grassroots participation at all levels of politics.
I am the author of the "Stand By Your Ad" requirement, which requires candidates to appear in, and claim responsibility for, the content of their campaign ads.  I also reintroduced my "Stand By Every Ad" legislation, which would extend the original Stand By Your Ad requirement to Super PACs.
Education
America's children are her greatest resource, and federal support for public education is essential to ensuring that our young people can fulfill their potential and grow into the leaders, innovators, and productive workers of tomorrow. As a product of our state's public university system and a career educator myself, I have always regarded education as my highest priority in the Congress. My successful legislative initiatives include the Advanced Technological Education program at the National Science Foundation, which supports innovative curricula and teaching methods at community colleges; the law making interest on student loans tax-deductible; and national scholarships for prospective teachers modeled on our state's successful Teaching Fellows program.
Today, the challenges facing our education system are many, from reforming and improving the Elementary and Secondary Education Act (ESEA, or "No Child Left Behind"), to making sure children from all walks of life, including those with disabilities, have equal opportunities to learn. In order to keep the doors of opportunity open to all students who strive for a bright future, we must ensure that a college education is accessible and affordable; I have supported student loan reforms which have eliminated "middlemen" and made more funds available to students on better terms. We must also take additional steps to attract and retain teachers and to provide our students with the resources they need to succeed.
As a member of the Appropriations Committee, I am fighting to avoid teacher layoffs and other ill-advised cuts in education funding. I believe strongly that quality education is the essential key to our economic competitiveness and prosperity, and that current efforts to cut education funding in the name of reducing the budget are dangerously misguided and counterproductive.
As your Representative, I will continue to fight to preserve and expand educational opportunities in the Fourth District and throughout the country. As Congress continues to debate education policy, I hope you will keep in touch with your views.
Energy & Environment
The wise stewardship of our natural resources is critical to our nation's national security, public health, and quality of life, and I am a staunch supporter of efforts to protect the air we breathe, the water we drink, and the food we eat from environmental contamination.
In order to ensure a cleaner and healthier environment – today and for future generations – we must continue to build on landmark environmental laws such as the Clean Water Act and Clean Air Act. We must also continue to provide robust funding for programs like the Land and Water Conservation Fund and the National Park Service, which help protect important wild places and make them accessible to the public. Coming from a family of avid animal lovers, I am also a strong supporter of legislation to protect animals, wildlife, and the habitat on which they depend.
In the Fourth District, we also understand the importance of new energy and environmental technologies to our economic development, and I have worked as a member of the Appropriations Committee to promote federal investments in environmental research, renewable energy technologies, and other "green" industries that will be essential to our future economic competitiveness. I am a member of the Sustainable Energy and Environment Coalition, and together we are working to promote a more sustainable national energy policy that includes conservation and renewable energy provisions and moves us away from our dependence on fossil fuels.
Unfortunately, in the previous Congress our landmark environmental laws and our investments in a cleaner and greener future came under threat like never before. As your Representative, I will continue working to resist attempts to undercut critical environmental laws and to provide adequate funding for energy and environmental research. As Congress debates these important issues, I hope you will keep in touch with your views.
Foreign Policy
Our nation is facing new and renewed national security challenges. The brutal attacks in Paris and San Bernardino underscore the grave threat posed by Daesh, also known as the Islamic State. President Obama's multifaceted strategy for confronting this threat has succeeded in recovering more than 40 percent of the territory held by Daesh in Iraq, but we must not relent in our efforts to combat this scourge.
American foreign policy should emphasize our role as a force for global peace and stability and as an exemplar of democratic values. In the current Congress, I serve as co-chair of the House Democracy Partnership, a bipartisan commission of the House of Representatives that provides support to parliaments in developing democracies. I was also instrumental in securing congressional support for the Iran Nuclear Agreement, which I strongly believe will prevent Iran from developing a nuclear weapon, and I have spearheaded successful efforts to improve transparency and accountability for private military contractors.
Gun Violence Prevention
I have always believed that reasonable measures that reduce gun violence and keep firearms out of the wrong hands are entirely consistent with the Second Amendment to the United States Constitution. Throughout my tenure in Congress, I have tried to advance commonsense reforms that protect our communities from harm while still allowing responsible, law-abiding citizens to own and use guns. Our current laws are failing us, and I refuse to believe that this issue is too complicated or too politically divisive to be addressed comprehensively and effectively.
As a Vice Chair of the House Democrats' Gun Violence Prevention Task Force, I have helped lead the effort within Congress to help prevent tragedies from recurring. The Task Force's proposal calls for a reinstatement of federal bans on assault weapons and high-capacity magazines, universal background checks on gun sales, and expanded support for mental health services. The proposal also encourages the expansion of critical law enforcement activities to reduce gun violence–such as local gun buy-back programs–and removing misguided restrictions on research into the causes of gun violence in our communities.
On the Appropriations Committee, I have led efforts to eliminate the federal ban on funding for gun violence research, which has been in place for decades. I strongly believe that this ban is outdated and misguided, and that academic research could provide important insights that could help reduce the impact of gun violence.
In an effort to jump-start consideration of comprehensive reforms, Democrats in Congress have also introduced several stand-alone bills to strengthen and improve our nation's gun laws. Among other measures, I am a cosponsor of legislation to expand background checks and close the "gun show loophole" that allows as many as 40 percent of all guns sold in the United States to change hands without proper screening; legislation to repeal the so-called "Tiahrt restrictions" that prevent federal agencies from enforcing anti-gun trafficking laws; and legislation that would impose stricter penalties on gun dealers who skirt the law.
These bills represent sensible–and in some cases, bipartisan–reforms that would have a measurable impact on the safety of our schools and communities without preventing law-abiding citizens from using guns for self defense or recreational purposes. President Obama has made clear that achieving progress on this issue is a priority for his second term; it is now up to Congress to fulfill its responsibilities and pass comprehensive legislation to reduce gun violence.
Housing and Community Development
All Americans should have access to a safe, affordable place to call home, but too many families in North Carolina and around the country are denied this basic necessity. Greedy, irresponsible behavior in the subprime mortgage market, abetted by lax or nonexistent regulation has made matters much worse and contributed to the worst economic downturn since the Great Depression, leaving far too many families in desperate situations.
As the Chairman of the House Appropriations Subcommittee for Transportation and Housing and Urban Development, I strongly support adequate funding for a broad range of programs designed to promote affordable housing, homeownership, and community development. We have a responsibility to work together to bring the American dream within reach for as many as possible.
Military and Veterans 
We must ensure that our government makes good on its obligation to provide them with adequate health care, educational and career opportunities, and other support services. We must also ensure that those who continue to serve on active duty have the support they need from back home, whether it is adequate protective equipment, compensation for extended or repeated tours of duty, or sufficient training and recuperation time between tours.
I firmly believe that, while we must work to reduce the deficit and eliminate the debt, we must ensure that our national checkbook is not balanced on the backs of men and women who have served–and sacrificed–for our country.
As a member of the Military Construction and Veterans Affairs Subcommittee on Appropriations, I have fought over the years to ensure that the Departments of Defense (DoD) and Veterans Affairs (VA) have the resources they need to meet the needs of service members and veterans in the Fourth District and across the country.
Transportation & Infrastructure
As Chairman of the House Transportation, Housing and Urban Development Appropriations Subcommittee, I lead the committee that oversees federal transportation and housing funding. These are vitally important issues in the Fourth District and throughout North Carolina. Our highways and railroads are crumbling and overcrowded, and affordable housing is all too scarce in our communities. I believe that since the House flipped in 2011, the policies of the Republican majority have left these programs chronically underfunded.
First and foremost, we must maintain our roads, highways and interstates, and bridges, which are critical to our economic prosperity as well as our quality of life. But new and widened roads alone cannot solve the traffic congestion and other problems that have become a part of daily life for many Fourth District residents. I am a strong supporter of "smart growth" development, which emphasizes greater coordination of housing, public transportation, and economic development plans at the local level, as well as an advocate for a "complete streets" policy that improves transportation options for all users – including pedestrians, bicyclists, transit riders, older persons, individuals with disabilities, and motorists. I have worked with local leaders to advance a plan for expanded bus and regional rail, and have also helped lead the fight in Congress to expand and improve high-speed rail in critical corridors, including the Southeast. We simply must develop a true multi-modal transportation strategy in order to keep pace with our community's needs.