Summary
Current Position: US Representative for District 12 since 2015
Affiliation: Democrat
Former Position(s): State Delegate from 1994 – 2013
Other Positions:  
Vice Chair, Subcommittee on Nutrition, Oversight, and Department Operations – Committee on Agriculture
Chair, Subcommittee on Workforce Protections – Committee on Education and Labor
Featured Quote: 
#12YearChallenge The last time Congress increased the federal minimum wage, I was a North Carolina state representative who had just passed an increase in our state minimum wage. I also had fewer hats. Needless to say, 12 years is too long. It's time to #RaiseTheWage!
Featured Video: 
US Representative Alma Adams delivers 2021 commencement address at Xavier University
News
How do we ensure an equitable recovery from the pandemic?
It's one of the most important questions of our careers, and one of the most important questions our country has ever faced. While it's clear the economy is improving, not all of our communities are benefiting equally in this recovery.
Many small businesses face challenges accessing benefits. Many hourly workers haven't seen their jobs return. Most disturbing is this solemn truth: Black, brown and indigenous communities have borne a disproportionate burden during COVID-19.
We should all be intent on leading a more inclusive recovery, with a focus on racial and social equity. One clear pathway is to invest in one of our nation's tried and true engines of upward mobility and job creation: historically Black colleges and universities, or HBCUs.
Twitter
About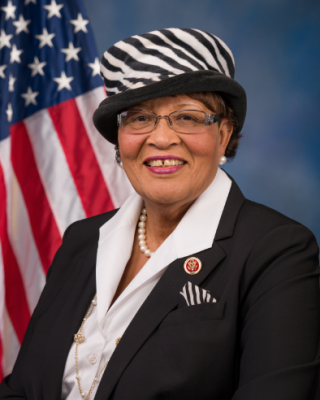 Source: Government page
Dr. Alma S. Adams was elected to her third full term representing the 12th Congressional District of North Carolina on November 6, 2018. After winning a special election in November 2014, Congresswoman Adams was sworn in immediately as the 100th woman elected to the 113th Congress.
Representative Adams serves on the Committee on Financial Services; Committee on Education & Labor and the Committee on Agriculture. She holds several leadership roles as Chairwoman of the Committee on Education & Labor's Subcommittee on Workforce Protections and Vice Chairwoman to the Committee on Agriculture. Congresswoman Adams serves on the Workforce Protections and Higher Education and Workforce Investment (Committee on Education and Labor); Nutrition, Oversight, and Department Operations (Committee on Agriculture); Diversity and Inclusion (Committee on Financial Services). One of her outstanding legislative accomplishments is the enactment of H.R. 5363, the Fostering Undergraduate Talent by Unlocking Resources for Education (FUTURE) Act that permanently provides funding totaling $255 million a year for all Minority-Serving Institutions, including $85 million for HBCUs.
Representative Adams has previously served on the Joint Economic Committee and in several leadership positions including Assistant Whip for the Democratic Caucus, Vice Ranking Member of the Small Business Committee, and ranking member of the Small Business Subcommittee on Investigations, Oversight, and Regulation. The Congresswoman is a co-founder of the Black Maternal Health Caucus with Rep. Lauren Underwood of Illinois and the founder and co-chair of the Congressional Bipartisan Historically Black Colleges and Universities (HBCU) Caucus to promote bipartisan legislation that supports HBCUs and their graduates. Since its inception, the caucus has:
Coordinated the Diversity & Tech program, which fosters engagement, collaboration, and partnership between fortune 500 companies, government and industry leaders, and HBCUs.
Fostered additions to the Farm Bill, which includes 40 million dollars to HBCUs for scholarships, funding for newly established centers of excellence in agriculture, and additional funding for agricultural research and cooperative extension for 1890 land grant universities.
Established the annual HBCU Braintrust, which allows faculty, staff and students from historically black colleges to visit the nation's capital to promote their institutions with government officials and corporate leaders.
She is also a part of the Women's Caucus, Diabetes Caucus, Autism Caucus, Congressional Black Caucus, Progressive Education Caucus, Historic Preservation Caucus, AIDS/HIV Caucus, Hunger Caucus, Medicaid Expansion Caucus, and the Art Caucus.
Throughout her career, Representative Adams has promoted quality education for all students, spearheading numerous pieces of legislation to boost funds for Historically Black Colleges and Universities. She has also introduced legislation to provide nutritious breakfast in schools and supports increased pay for teachers. For 40 years, Dr. Adams taught Art at Bennett College. While at Bennett, she led the effort to increase student civic participation coining the phrase "Bennett Belles are Voting Belles" and organizing annual marches to the polls. As a former educator, Rep. Adams has dedicated her career to improving the lives of young people and her community. She is the recipient of numerous awards and honors, including the North Carolina A&T State University Human Rights Medal, the highest award presented by her alma mater to an individual who fights against social injustice and helps improve the world.
In 1994, Dr. Adams was appointed by her peers to serve in the North Carolina House District 26 seat. She went on to serve ten terms in the state House. During her tenure, she rose to become the chair of the North Carolina Legislative Black Caucus and was instrumental in passing legislation that improved the climate for quality affordable health care in the state. Representative Adams also pioneered the Displaced Homemakers Bill and successfully spearheaded the state's first minimum wage increase in nine years.
Before serving as a member of the North Carolina General Assembly, Congresswoman Adams served nine years on the Greensboro City Council. Throughout her service to the second district in Greensboro, Dr. Adams worked to create safe and affordable housing and for the revitalization of neighbors. She began her political career in the 1980's by becoming the first African American woman ever elected to the Greensboro City School Board. It was then that she made a lifetime commitment to effecting social change in her community and beyond.
Congresswoman Adams has one daughter, Linda Jeanelle Lindsay, one son Billy E. Adams II, and four grandchildren: Joslyn Lindsay, Aaron Lindsay, Billy E. Adams III, and Miracle Sumner. Adams graduated from North Carolina A&T State University in 1968 and received her master's degree in Art Education in 1972. She earned her Ph.D. in Art Education and Multicultural Education from The Ohio State University in Columbus, Ohio in 1981.
Voting Record
Caucuses 
Congressional Progressive Caucus
Blue Collar Caucus
Congressional Black Caucus
Congressional Arts Caucus
Experience
Work Experience
Faculty
Bennett College, Greensboro, N.C.
1972 to 2012
Member
Greensboro, N.C., School Board
1984 to 1986
Member
Greensboro, N.C., City Council
1987 to 1994
Education
Personal
Birth Year: 1946
Place of Birth: High Point, NC
Gender: Female
Religion: Christian: Baptist
Children: Linda Jeanelle Lindsay, Billy E. Adams
Contact
Email:
Offices
Washington D.C. Office
222 Cannon House Office Building
Washington, DC 20515-3312
Phone: 202-225-1510
Fax: 202-225-1512
Charlotte District Office
801 E Morehead Street
Suite 150
Charlotte, NC 28202
Phone: 704-344-9950
Fax: 704-344-9971
Web
Government Page, Government Page, Twitter, YouTube, Facebook, Wikipedia
Politics
Source: none
Campaign Finance
Open Secrets – We Follow the Money
Voting Record
VoteSmart – Key Votes & Ratings
Search
Wikipedia Entry
Alma Shealey Adams (born May 27, 1946) is an American politician who represents North Carolina's 12th congressional district in the United States House of Representatives. A Democrat, Adams represented the state's 58th House district in Guilford County in the North Carolina General Assembly from her appointment in April 1994 until her election to Congress, succeeded by Ralph C. Johnson.[1] A college administrator and art professor from Greensboro, Adams is known for her many distinctive hats (she claims to own 900).[2] She won the 2014 special election in North Carolina's 12th congressional district to fill the vacancy created by the resignation of Mel Watt, becoming the 100th woman serving in the 113th Congress. She won election to a full two-year term at the same time.[3][4]
Early life and education
Adams was born on May 27, 1946, in High Point, North Carolina. Her parents were Benjamin Shealey and the former Mattie Stokes. She graduated from West Side High School in Newark, New Jersey, in 1964. Adams received her B.S. degree in 1969 and her M.S. degree in 1972, both from North Carolina A&T University and both in art education. She received her Ph.D. in art education/multicultural education from Ohio State University in 1981.[5][6] Adams is a member of Alpha Kappa Alpha sorority.[7]
State legislature
Adams was a member of the Greensboro City School Board from 1984 to 1986 and a Greensboro City Council member from 1987 until her appointment to the House in 1994.[5][8]
She was appointed to North Carolina House in 1994 to replace Herman Gist, who died in office. The district is in Guilford County and includes most of southeastern Greensboro. She had already announced that she was going to challenge Gist in the Democratic primary that year.[8] After being appointed to the seat, Adams faced conservative businessman and retired engineer O. C. Stafford in the Democratic primary. Stafford was a perennial candidate who had run for various offices, sometimes as a Democrat and sometimes as a Republican. He had challenged Gist as a Republican in the 1992 general election. In 1994, as a Democrat,[9] he lost to Adams in the primary.
Adams won a full term in the general election, beating Republican Roger G. Coffer. She faced a rematch with Stafford in the general elections of 1996 and 1998 when Stafford ran as a Republican.[10] Adams won both elections.[11][12] In 2000 Adams did not have an opponent in the Democratic primary; she defeated Republican real estate broker Jim Rumley in the general election.[13][14]
In 2002, after redistricting, Adams's seat was changed from the 26th district to the 58th. Her only challenger that year was Libertarian lawyer David Williams, who withdrew from the race in October because he was moving to Colorado.[15] His name still appeared on the ballot, but Adams won with nearly 86% of the vote.[16]
Adams has been challenged for her seat for many years by Republican legal assistant and party activist Olga Morgan Wright.[17] Wright has run for the seat held by Adams in nearly every election since 2004. Adams defeated Wright and Libertarian challenger Walter Sperko with 66% of the vote in 2004.[18] In the next election Adams had no competition in the primary; she defeated Wright in the general election 66%–34%.[19] In 2008, the year Barack Obama was elected president, Democratic voters had a high rate of participation, and Adams defeated Wright 71.35%–28.65%[20]
In 2008, Adams was elected to a second term as chair of the North Carolina Legislative Black Caucus.[21]
Adams was vice-chair of the Government Committee in the state House.[22] Previously she was chair of the Appropriations Committee as well as vice-chair of the Commerce, Small Business and Entrepreneurship Committee.[5]
In 2010, Adams was challenged in the Democratic primary by Ralph C. Johnson. She defeated Johnson with 76.56% of the vote.[23] Adams next faced Republican Darin H. Thomas in the general election, beating him 63.15%–36.85%.[24] In 2012, Adams had no primary opposition and defeated Olga Wright in the general election, 79.86%–20.14%.[25]
U.S. House of Representatives
Elections
2014 special and general elections
In April 2013, Mel Watt, the only congressman to have served the 12th District since its creation in 1993, was appointed director of the Federal Housing Finance Agency. Adams was one of the first to announce that if Watt were confirmed, she would run in the ensuing special election. Watt was confirmed in December 2013. Adams formally filed paperwork to run in both the Democratic primary for a full two-year term in the 114th Congress and the special election held in November 2014 to fill the balance of Watt's 11th term.[26] Adams was sworn in on November 12, 2014, to complete the remaining seven weeks of Watt's term.[27] After the swearing-in, Adams became the 100th female member of the congressional class, beating the previous record of 99.[27] Adams was reelected to the seat in 2016 and 2018.
Analysts thought that Adams was at a geographic disadvantage in the five-way primary for both the special and regular elections (held on the same day in November 2014). She is from Greensboro, but the bulk of the district's population is in Charlotte. But with three Charlotteans in the race splitting that region's vote, Adams won both primaries with about 44% of the vote, a few thousand votes over the 40% threshold needed to avoid a runoff. She faced Republican Vince Coakley, a former television and radio broadcaster from Matthews, in the general and special elections, which were held on the same day. The 12th was a heavily Democratic district with a majority-black voting population and a Cook Partisan Voting Index of D+26, and Adams won both elections handily.
Adams is the second woman of color to represent North Carolina in the House. The first was Eva Clayton, who represented much of eastern North Carolina from 1992 to 2002.
In the 2016 presidential election, Adams endorsed Hillary Clinton and pledged her support as a superdelegate.[28]
Adams is a member of the Congressional Progressive Caucus,[29] the Congressional Black Caucus,[30] and the Congressional Arts Caucus.[31]
Adams decided not to attend the January 2017 Inauguration of Donald Trump.[32]
Tenure
In February 2022, Adams and Representatives A. Donald McEachin and Brian Fitzpatrick introduced the African American Burial Grounds Preservation Act, would have the National Park Service work with local governments to identify, survey, research, and preserve historic African American cemeteries and burial grounds. The legislation has bipartisan support in the House.[33]
Adams's residency questioned
A court-ordered redistricting in 2016 made the 12th somewhat more compact. It now comprised nearly all of Mecklenburg County, home to Charlotte. Adams's home in Greensboro was drawn into the 13th district. She had already filed for a second full term, but announced she would move to Charlotte.[34] She claims a home in Charlotte's Fourth Ward neighborhood owned by Mary Gaffney,[35] one of her prominent supporters,[36] as her official residence in the district. Both Gaffney and Adams maintain active voter registrations at that address.[37] On May 31, WBTV in Charlotte reported that Adams filed campaign finance documents listing her longtime home in Greensboro as her residence, and also spends most weekends in her Greensboro home. WBTV also reported that Adams had scrubbed all references to her service as a local official in Greensboro from her campaign website, though her biography on her campaign's Facebook page still contained references to that service.[38] When a WBTV reporter approached Adams at her home in Greensboro, she backed out of her driveway and drove away and was later found hiding out in her car near the entrance to her neighborhood. When the reporter attempted to confront her, she drove away a second time.[38] While members of Congress are only required to live in the state they represent, it is customary for them to live in or near the district they represent.
With seven Charlotteans splitting the vote, Adams won the 2016 Democratic primary with 42%.[39] This all but assured her of a second full term; due to Charlotte and Mecklenburg County's heavy swing to the Democrats in recent years, the reconfigured 12th is no less Democratic than its predecessor.
Committee assignments
Caucus memberships
Other work
Adams has been a professor of art at Bennett College in Greensboro, as well as the director of the Steel Hall Art Gallery.[5] In 1990, she and Eva Hamlin Miller co-founded the African American Atelier, an organization established to advance awareness and appreciation for visual arts and cultures of African Americans.[41]
Adams chairs the North Carolina Legislative Black Caucus Foundation, which gives scholarships to students who attend one of North Carolina's Historically Black Colleges and Universities.[42]
Personal life
Adams is divorced and has two children.[5][6] She is well known for her many distinctive hats.[43]
See also
References
External links
Recent Elections
2018 US Senator for 12 District
| | | |
| --- | --- | --- |
| Alma Adams (D) | 203,974 | 73.1% |
| Paul Wright (R) | 75,164 | 26.9% |
| TOTAL | 279,138 | |
Finances
ADAMS, ALMA has run in 14 races for public office, winning 14 of them. The candidate has raised a total of $3,124,492.
Source: Follow the Money
Committees
Committees
House Committee on Agriculture
House Committee on Education and Labor
House Committee on Financial Services
Subcommittees
Nutrition, Oversight, and Department Operations
Workforce Protections
Higher Education and Workforce Investment
Diversity and Inclusion
Voting Record
See: Vote Smart
New Legislation
Source: Congress.gov
Issues
Source: Government page
Committees
Committee on Agriculture (Vice Chair)

Subcommittee on Nutrition, Oversight, and Department Operations

Committee on Education and Labor

Subcommittee on Workforce Protections (Chair)

Committee on Financial Services

Subcommittee on Diversity and Inclusion
Legislation