Summary
News
Twitter
About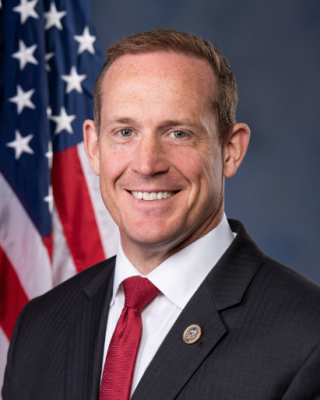 Source: Government page
Ted Budd represents North Carolina's 13th Congressional District and is serving his second term in the 116th United States Congress.
Ted brings an outsider's perspective to Washington having never held elective office. When an opportunity presented itself after redistricting opened up North Carolina's 13th Congressional District, Ted decided to run and offered to bring a different perspective to our nation's capital.
Ted sits on the Financial Services Committee where he uses his real world experience to roll back the restrictive regulations that strangle job creation in this country. Working at a young age for his family's janitorial and landscaping business, Ted learned the importance of work ethic and common sense decision making.
Ted and his wife Amy Kate have three children and live in Davie County, NC. As a strong Christian family man, Ted is worried about the direction our nation is heading and looks forward to working in Washington to create a better country for the next generation.
He holds an MBA from Wake Forest University and a Masters in Leadership from Dallas Theological Seminary.
Voting Record
Caucuses
Freedom Caucus
Task Force on Artificial Intelligence
Republican Study Committee
Experience
Work Experience
Investment Analyst
Business Owner

Gun store in Rural Hall, North Carolina.
Education
Personal
Birth Year: 1971
Place of Birth: Winston-Salem, NC
Gender: Male
Race(s): Caucasian
Spouse: Amy Kate
Contact
Email:
Offices
Washington D.C. Office
118 Cannon HOB
Washington, DC 20515
Phone: 202-225-4531
I 40 Office
128 Peachtree Lane Suite A
Advance, NC 27006
Phone: 336-998-1313
Guilford Office
1208 Eastchester Drive, Suite 203
High Point, NC 27265
Phone: 336-858-5013
Web
Government Page, Campaign Site, Twitter, Facebook, Campaign Site, Wikipedia
Politics
Source: none
Campaign Finance
Open Secrets – We Follow the Money
Voting Record
VoteSmart – Key Votes & Ratings
Search
Google
Wikipedia Entry
Recent Elections
2018 US Senator for 13th District
| | | |
| --- | --- | --- |
| Ted Budd (R) | 147,570 | 51.5% |
| Kathy Manning (D) | 130,402 | 45.5% |
| Tom Bailey (L) | 5,513 | 1.9% |
| Robert Corriher (G) | 2,831 | 1.0% |
| TOTAL | 286,316 | |
Finances
BUDD, THEODORE PAUL (TED) has run in 3 races for public office, winning 2 of them. The candidate has raised a total of $4,149,262.
Source: Follow the Money
Committees
Committees
House Committee on Financial Services
Subcommittees
Consumer Protection and Financial Institutions
Diversity and Inclusion
Voting Record
See: Vote Smart
New Legislation
Source: Congress.gov
Issues
Source: Government page
Committees
Committee on Financial Services
Subcommittee on Consumer Protection and Financial Institutions
Subcommittee on Diversity and Inclusion
Legislation
Sponsored and Cosponsored
Issues